Expanding Habitat's Regional Housing Initiatives to Serve More Families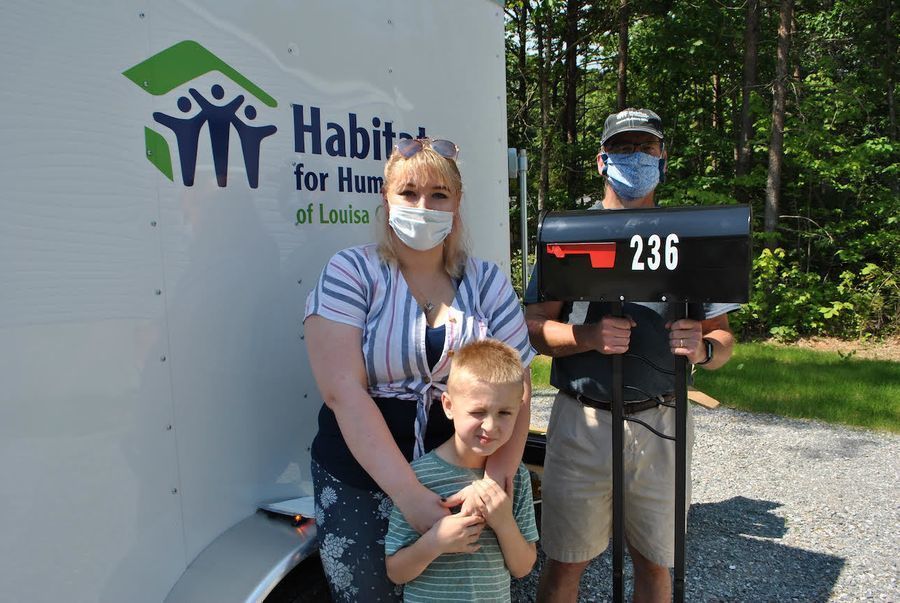 Erin Swinson and her son Zander were staying with her grandparents in Louisa County, living day to day and wondering what comes next. 
"They happily took us in, but they told me I needed to have a plan," said Erin of her grandparents. "Me living with them was only ever going to be a temporary situation." 
It wasn't ideal, but after paying the babysitter and the bills, and putting food on the table, "there was never enough left to get a place of our own, much less a house." Her determination to do better, to provide a stable home for her son inspired her to take a coworker's advice and attend a Habitat interest meeting at the Louisa County Library. 
"I really didn't think I would have a chance at this program," she recalled. "But they sent me a letter telling me I was approved!"
After that it was a whirlwind.
In February, after months of juggling her work, childcare, financial coaching and more than 200 hours of sweat equity, Erin and Zander closed on their home on Blueberry Lane.
"It was literally down to how much I spend on shampoo," she says, reflecting on the financial education she received through Habitat volunteers in Louisa. "It was very intense, but I understand the purpose."
Erin's plight prior to partnering with Habitat is not unique. 
A recent study by the Thomas Jefferson Planning District Commission identified a 14,000 unit affordable housing gap in the region, inclusive of the City of Charlottesville and Albemarle, Louisa, Greene, Fluvanna and Nelson Counties. 
At Habitat, we are addressing this gap head on. 
This year, we formally committed ourselves to a comprehensive regional approach to address the specific housing challenges in both the urban and rural areas of Central Virginia. As a result, over the next few years, we will build more new homes, rehabilitate more existing ones and help more families remain in their homes in Louisa and Greene Counties.
Whereas we have historically built and rehabbed a few homes in the rural counties each year, working with a core group of long-time volunteers in Louisa and Greene, we added a section to our strategic plan committing ourselves to building 30 homes, executing 80 home repairs, and impacting more than 200 families through advocacy work over the next five years. This reflects an increase in impact of more than 200%. And it means that more families like the Swinsons will have access to safe, decent, and affordable housing in the years to come.
"I've been able to talk with other people who have been in a difficult situation and think [partnering with Habitat] might be the right decision," says Erin about her intention to pay it forward, to help others in her community who could benefit from the regional housing increase in productivity.
"I think my place in all of this is to continue to raise awareness. I didn't even know Habitat existed in Louisa until that day when my coworker was talking to me about it. I think getting the word out there is really important to help people realize that Habitat for Humanity is doing something unarguably good."